I'm linking up to Fabric Tuesday today as I've finished the circles doll's quilt for my daughter's friend which I showed in progress yesterday. Sadly, after all the glorious weather here the sun has gone in, as you can see from the dingy photos...
It is square - promise!
I left the quilting simple and bound it with binding left over from
Siblings Together quilt 1
. This quilt was fun to make, using raw-edge applique to sew on a variety of circles, some fussy cut, cut using lids and cups as templates. In retrospect I think it needed a couple more but I handed it over to its wee recipient and she was very happy with it, so that's good!
There are lots of lovely circle quilts out there, like
this
at Purl Bee which uses a rather fiddly method to turn the edges of the circles or the tutorial
here
at Bijou Lovely for a completely different one, with circles arranged in a grid.
I think a random circle bed quilt would be fun for a child - perhaps with some colourful hand quilting. Do you have a constant list in the back of your mind of things you want to try? I've added this to mine which is getting longer and longer!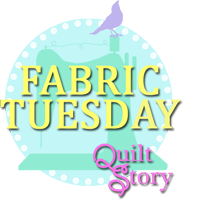 I'm also linking up to the Let's Get Acquainted blog hop again (see the button in my sidebar) and have hopped over to visit Heidi at
Fabric Mutt
and Amy from
Amy's Crafty Shenanigans
where you can see how high they have set the benchmark for the rest of us with great tutorials for a Quiet Book for children travelling, and a frayed edge quilt.
I love Heidi's
Watercolour Quilt
and Amy's has entered a really clever mini in the
Play
competition.